Next meeting
TRAC2015 Call for Papers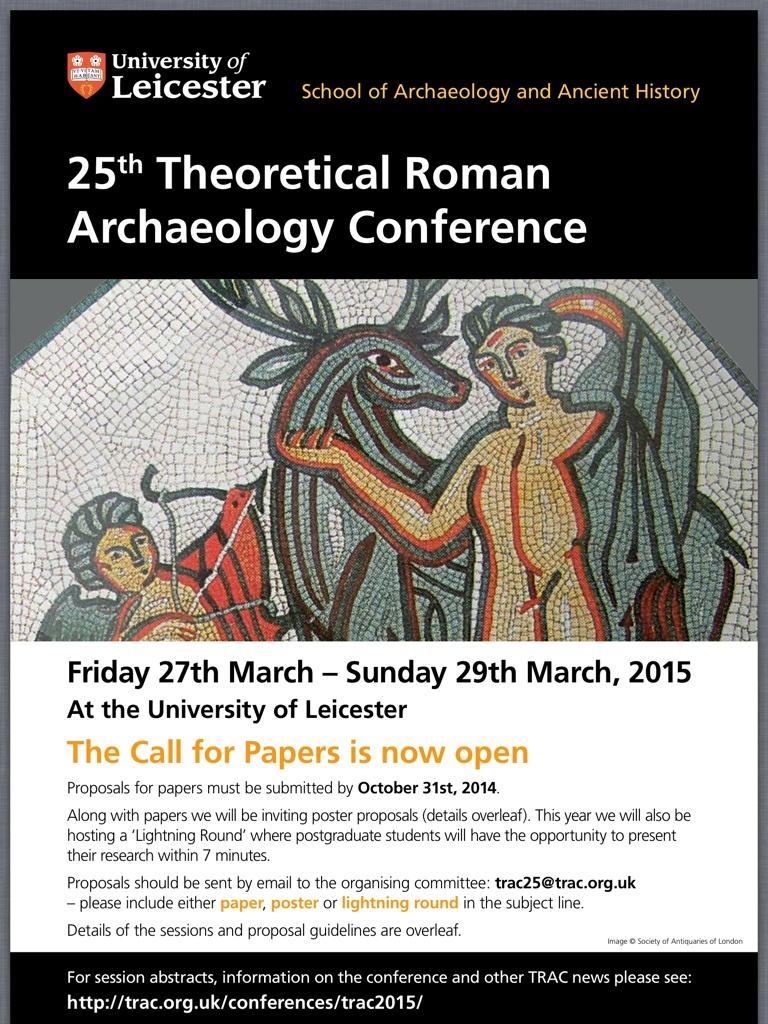 Following the success of last year's Roman Finds Group session at TRAC, we are very pleased to sponsor a session this year on 'Interdisciplinary Approaches to Roman Artefacts'.
Proposals for papers are invited by October 31st. Proposals should be sent to trac25@trac.org.uk. Please include either 'paper', 'poster' or 'lightning round' in the subject line of your submission. All submissions will go through a peer review process.
http://trac.org.uk/2014/10/trac-2015-call-papers/
We look forward to seeing you there.
Ellen Swift, University of Kent
Interdisciplinary Approaches to Roman Artefacts
The Roman Finds Group has an eclectic base comprising field archaeologists, materials scientists, museum curators and educators, experimental archaeologists, academics, and many others. As such we would like to promote an interdisciplinary approach to Roman artefact studies, drawing on the diverse range of knowledge and expertise that exists in material-based studies. The contribution of anthropology is long-standing in the interpretation of archaeological artefacts, however, many other disciplines also have a material focus. This session particularly encourages theoretically-informed contributions that consider the material of Roman artefacts from a wider perspective, e.g. that of art and design, museum studies, materials science, craft experience, or experimental reconstruction.
Roman Finds Group Conference: Finds from Manchester and the North West
8th October 2014
Manchester Museum
Staffordshire Pan - 'Tullie House Museum and Art Gallery Trust, Carlisle'
9.30-10.00 Registration + Tea/Coffee
10.00 Paul Holder (University of Manchester) – Recent finds of Roman Military Diplomas from Britain
10.30 Norman Redhead (Greater Manchester Archaeology Advisory Service) – Finds from Castleshaw Roman Fort
11.00 Vanessa Oakden (Portable Antiquities Scheme) – Finds beneath our Fields: The Knutsford Hoard
11.30 Bryan Sitch (Manchester Museum) – Manchester Museum collections
12.00-1.30pm Lunch (will feature visits to Museum store)
A relatively long lunch break is planned so there will be time to see material in the reserve collection as well as exxploring the museum and finding something to eat.
1.30-2.00 Barbara Birley (Vindolanda Trust) – Keeping up appearances: the wooden hair combs from Vindolanda
2.00-2.30 Gill Dunn – Recent finds from Chester focusing on finds from the amphitheatre
2.30-3.00 Justine Bayley – Enamelled Roman objects
3.00-3.30 Tea
3.30-4.00 Matthew Ponting (University of Liverpool) – Recent analysis of Roman coins (title tbc)
4.-4.30 Rob Philpott – Roman finds from Meols on the North Wirral shore
4.30-5.00 Discussion and closing remarks
There will be an opportunity to see material in the reserve collection. For more information and bookings please contact Bryan Sitch, Deputy Head of Collections, Manchester Museum, Oxford Road, Manchester M13 9PL (bryan.sitch@manchester.ac.uk). All bookings must be made before 3rd October 2014, but as places are limited, early booking is advised.
Cost: £15 for RFG members and students, and £20 for others (includes tea and coffee but not lunch). Cheques should be made payable to the Roman Finds Group.
RFG Meetings
Roman Finds Group meetings are held twice a year in varying locations, and provide a useful opportunity for presentation and discussion.
We are in the process of setting an exciting programme of meetings for the next year or two.
Our Spring 2014 meeting will be part of the Roman Archaeology Conference at the University of Reading, 27-30 March. Hella Eckardt is leading the session "Roman metal small finds in context" on the afternoon of Friday 28th March. Early bird booking rates should hopefully be in place before Christmas, and a provisional programme is here:
http://www.reading.ac.uk/archaeology/Conferences/RAC2014/arch-RAC2014.aspx
We shall visit Exeter's revamped RAM Museum during the Summer of 2014. We also hope to host an Autumn meeting in Manchester, to coincide with the British Museum's touring exhibitionEmpire, Power and People.
RAC 11/TRAC 24
27th–30th March, 2014
This spring we are joining the Study Group for Roman Pottery in sponsoring a session at the Roman Archaeology Conference being held at the University of Reading. Our session is titled Roman Metal Small Finds in Context. The speakers are:
Ellen Swift – Design, function and everyday social practices: a case study on Roman spoons
Emma Durham – Metropolitan styling. The figurines from London and Colchester
Michael Marshall, Natasha Powers , Sadie Watson – 'Treasure', 'trash' and taphonomy: Approaches to the excavation and interpretation of Roman finds from the Walbrook valley
Martin Pitts – First generation urban communities: comparing ceramic and brooch assemblages in Roman Britain
Tatiana Ivleva – What's in the name? 'Britishness' of British-made brooches abroad
Hella Eckardt – Immigrant soldiers at Hollow Banks Quarry, Scorton? New work on crossbow brooches, burial rites and isotopes
There are many other sessions that will be of interest to members of the group including:
Insularity and Identity in the Roman Mediterranean
Small Finds and Ancient Social Practices
Return to the Sauce: new investigations concerning amphorae and their contexts
'Deposits Full of Character'
Clay and Cult: Roman terracottas and their production and use in domestic, religious and funerary contexts
Continuity and Change – the impact of foodways on provincial pottery traditions
The basic conference fee is £98 including lunches on
Friday and Saturday, and there are discounts for students (‐£20) and Society members (‐£5). Delegates can also book in for the Conference dinner on the Friday night and a guided tour around Silchester on the Sunday afternoon. Conference details, including abstracts of all papers, can be found at: http://www.reading.ac.uk/archaeology/Conferences/ RAC2014