Roman Finds Group Meetings
Finds from the Roman North and Beyond
Joint Roman Finds Group and Centre for Interdisciplinary Artefact Studies
Spring 2015 Meeting 16th - 17th March, Newcastle University
Update! We have received a synopsis of the papers that will be presented. You can read these below by clicking here: Read the Synopsis of Papers.
The 2015 RFG Spring Meeting is based in Newcastle. It will be a two day conference from lunchtime on the Monday 16th to late afternoon on Tuesday 17th March. It will be held in Rooms 1.04 and 1.06 of the Armstrong Building, University of Newcastle Upon Tyne and is being jointly hosted by RFG and the Centre for Interdisciplinary Artefact Studies of the University (ncl.ac.uk/historical/about/facilities/cias.htm).
There are four sessions of papers, with fourteen illustrated talks, on various aspects of finds from sites throughout the north, and an organised visit to Segedunum Roman Fort, Baths and Museum. This is an excellent opportunity to hear about recent finds and research in the north, as well as to view one of the major museums along Hadrian's Wall which has undergone major work in the last few years.
Space is limited so early booking is strongly advised. The cost of the meeting is £30 for fully paid up RFG members, £20 for students, £35 non members.
What's included
Access to all conference sessions, finds and poster viewings.
Teas and coffees as in the programme.
Wine, soft drinks and snacks at the evening reception
Finds Viewing/poster displays/book sales
There is space in the Armstrong Building for finds display and discussion—during tea/coffee breaks. There will be recent finds from Vindolanda and South Shields but further displays are welcome—please indicate on the meeting application form. There will also be space for poster displays and the sale of books etc.
Getting to the Armstrong Building
From Newcastle Railway Station a taxi will cost approximately £5. Transportation from and to Newcastle Railway Station is easiest by Metro (to Haymarket Station) or by any bus to Eldon Square. A city centre map showing the University Campus is on the RFG web site. Travelling by car is not encouraged, but the Armstrong Building is opposite the RVI Hospital and the carpark off Claremont Rd usually has spaces and is not too expensive. Trains to Newcastle are, of course very regular (e.g. Monday 09.00 from KX arrives Newcastle 11.51; Tuesday 16.59 Newcastle arrives KX 19.51 - subject to timetable change). Download the Campus Map here.
Joint Roman Finds Group Centre for Interdisciplinary Artefact Studies Meeting Spring 2015
Monday Evening Reception and Conference Dinner
There will be a reception for delegates at 17.30 . Following this, at 19.30, there will be a Conference meal, held in 'the Ottoman Turkish Restaurant'. This must be pre booked. (details on booking). The menu for Monday evening will be placed here in due course.
Annual General Meeting
There will be a short Annual General Meeting for RFG Members on the Tuesday morning. There are three main items for discussion: an RFG Constitution, Establishment of a RFG Grant Fund and future RFG subscriptions. Details will be circulated to all RFG Members prior to the AGM so that those members not able to be there can still have a say in these matters!
Museum Visit
On the Tuesday afternoon there is an opportunity to visit Segedunum Roman Fort, Baths and Museum (www.twmuseums.org.uk/segedunum-roman-fort.html) including an opportunity to scale (or take the lift!) the viewing platform for an excellent view of the remains of the Roman fort and to watch the time lapse video of the building history of the site. There will then be a guided tour of the full scale reconstructed bath house (current repairs permitting) and Hadrian's Wall reconstruction. There is an additional charge for this event of £6, which includes transport from the Armstrong Building, return to the railway station and admission to the Museum. There will be an opportunity to purchase a snack lunch at the Museum.
Questions and further Information
Any questions about the meeting should be made to Stephen Greep at sjgreep@gmail.com
Meeting Programme and Timetable
Day One : Monday 16th March 2015
Pre meeting
13.00 Registration. Welcome tea/coffee
13.25 Welcome and Introduction, Dr James Gerrard, Department of History, Classics and Archae ology, University of Newcastle.
Session One : Current Finds Research at The University of Newcastle
Chair : Dr Jane Webster , Senior Lecturer in Historical Archaeology and Head of Archaeology, De partment of History, Classics and Archaeology, University of Newcastle.
13.30 Dr James Gerrard, Lecturer in Roman Archaeology, Department of History, Classics and Archaeology, University of Newcastle. 'Rethinking the Irchester bowl, again'
14.00 Emma Gooch, MA Student, Department of History, Classics and Archaeology, University of Newcastle. 'A load of old bulls: 'phallic horns' in bovine imagery'
14.30 Evan Scherer, PhD Student. Department of History, Classics and Archaeology, University of Newcastle. 'The Use and Abuse of Late Roman Artefacts in Transylvania'
15.00 Tea/Coffee – viewing of finds and posters.
Session Two : Finds from South Shields
Chair : Dr Mark Jackson, Lecturer in Archaeology, Department of History, Classics and Archaeology, University of Newcastle
15.30 Dr Stephen Greep 'A very late Roman furniture makers workshop from Arbeia'
16.00 Matt Fittock, PhD Student, University of Reading 'Pipeclay Figurines from South Shields in their wider setting'
16.30 Alex Croom, Keeper of Archaeology, Tyne and Wear Museums Service 'Finds from recent Vicus Excavations at Arbeia'
16.50 Keynote Speaker: Lindsey Allason-Jones 'Working with Roman Finds'
17.30 Wine/soft drink reception (with snacks)
18.00 Close
19.30 Evening dinner at the Ottoman Turkish Restaurant (details on booking)
Day Two : Tuesday 17th March 2015
Session Three : Finds from the North
Chair : Justine Bayley, Chairman, Roman Finds Group
09.00 Dr Philippa Walton, 'Research Fellow, University of Oxford . 'Cataloguing and analysis of the Roman 'votive' assemblage from Piercebridge, County Durham : An Update.'
09.30 Dr Rob Collins Research Associate on the Frontiers of the Roman Empire Digital Humanities Initiative (FREDHI) at Newcastle University ''Great Whittington: New finds identifying a new site in the Wall corridor'
10.00 Frances McIntosh, Curator of Roman Collections, English Heritage /PhD student, Newcastle University' 'Clayton; Collector, Conservator and Curator'
10.30 John Cruse, 'Independent Researcher and York Archaeological Society Quern Co-ordinator 'Roman Querns in the North – Some Distinctive Regional Types'
11.00 Annual General Meeting/ Tea/Coffee - viewing of finds for non RFG Members
Session Four. Finds from the North and Beyond
Chair : Sally Worrell, PAS National Finds Adviser, Roman Artefacts, UCL
11.30 Barbara Birley, Curator, Vindolanda Trust, 'From tablets to toilet seats – an update on the recent finds from Vindolanda
12.00 Jenny Proctor, Post Excavation Manager Pre-construct Archaeology, Recent finds from Be dale, N. Yorks'
12.30 Dr Hella Eckardt, Associate Professor, Department of Archaeology, University of Reading' Literacy and power: Bronze inkwells in the Roman Empire?'
13.00 Meeting Close
Session Five : Visit to Segedunum Roman Fort, Baths and Museum
13.15 Transport to Wallsend Museum (lunch available)
14.15 Alex Croom: Introduction to the Wallsend Museum
15.00 Nick Hodgson: The Bath-house and Wall reconstructions
16.00 Transport to Newcastle Railway station will depart from Wallsend (15/20 minute journey— timed to meet the 16.59 departure from Newcastle Central Station)
Synopsis of Papers to be Presented
The Irchester Bowl, again
James Gerrard
The Irchester Bowl is a relatively well known late Roman and early medieval bronze vessel form. They are usually hemispherical with an inturned rim and an omphalos base and have typological links to the famous early medieval series of hanging bowls. This paper examines the typology, distribution and date of these vessels and draws on new discoveries and forgotten information to present an up-to-date review of this interesting vessel.
A very late Roman furniture makers workshop from Arbeia
Stephen Greep
During Excavations of the Commanding Officers house in the south-east corner of the Roman fort at South Shields (1986-91) a considerable quantity of waste and worked red deer antler was recovered - the largest quantity (at least 22 antlers; around 12kg of material) so far recorded from Roman Britain. Although the deposits were disturbed and the waste occurred over a fairly wide area of the site, it clearly represents waste products from the manufacture of wooden furniture. All stages of production are represented, although the major (but not only) final product was small, two-grooved strips well represented from sites elsewhere in Britain. The workshop is dated on coin evidence to post c. AD388 and represent the latest evidence of furniture manufacture yet recorded from Roman Britain.
This presentation will examine the working techniques, implications for late fourth/early fifth century cultural and industrial practices and place this find in the context of decorated furniture making throughout the Roman period in Britain.
Pipeclay Figurines from South Shields in their Wider Setting
Matthew Fittock
Pipeclay figurines are an important yet under-examined category of artefacts that provide a valuable insight into the religious lives of those who inhabited Roman Britain. Produced in terracotta workshops located in the Allier Valley and region around Cologne during the first and second centuries AD, the figurines from South Shields comprise an important part of the finds recovered from the north of the province. The range of figurine types from the site is limited and includes common depictions of Venus, Dea Nutrix and Minerva, but also an interesting plinth base inscribed by the craftsmen Servandus that is particularly rare amongst the wider material now available from the country.
This paper will assess the social distribution and contextual deposition of the collection of pipeclay figurines from South Shields alongside a wider corpus of discoveries from nearby sites, like Benwell and Wallsend, to evaluate the possible function and social significance of these objects across the region. Comparison with other pipeclay figurine assemblages recovered from London, wider Britain, and Gaul will also highlight any distinctive patterns of regional consumption and use, while subtle fragmentation patterns additionally provide an insight into beliefs and ritual practices that help further explore the nature of religious life in these areas of the Western Provinces.
Working with Roman Finds
Lindsay Allason-Jones
Everyone expects to see a report on the finds from an excavation in its final report. To many people the production and publication of a catalogue is the end of the process; for many finds specialists, however, this is merely the end of Stage One. In recent years, much synthetic work has been done on finds and this work is shedding considerable light on the way people lived in the past but occasionally offers insights in to life in the present. Newcastle University has a long track record of working with artefacts and in 2008 set up the Centre for Interdisciplinary Artefact Studies (CIAS) to take this work further. Much of this activity has involved contributions by scholars from different backgrounds; some, such as conservators and metallurgists, have traditionally worked with archaeologists; some, such as psychiatrists and musicians, have not. This paper explores some of the unexpected byways the speaker has wandered down whilst pursuing knowledge about artefacts
From tablets to toilet seats – an update on the recent finds from Vindolanda
Barbara Birley
2014 was an exceptional year for the Vindolanda excavations, producing a wide range of wonderful, rare and beautifully preserved artefacts from the site. The archaeological work took place in three areas and all the following locations produced something special. The excavations in the field to the north of the Stanegate Road uncovered an impressive Roman military kiln site and although we are just beginning to understand this area, we have recovered a large amount of brick and tile and evidence for the manufacture of coarse ware pottery. Three of the most outstanding artefacts were a very fine appliqué mould of Apollo, a wooden potter's wheel and an enamelled seal box.
Inside south east quadrant of the 3rd-4th century fort, the second year of excavations revealed the last layers of occupation on the site. A gold aureus of Nero was found in this area as well as a host of late Roman and post-Roman artefacts and building levels. The final area included some of the pre-Hadrianic anaerobic levels below the later 3rd century vicus buildings. These are the places where the organic objects survive and produced some of the best preserved finds. Leather boots and shoes, wooden objects including bowls, part of a wagon wheel, stylus and ink on wood tablets and a toilet seat to name but a few. The metal objects from these excavations were generally in pristine condition and included many personal artefacts.
Writing power: inkwells and identities
Hella Eckardt
It is generally thought that only relatively few individuals could read and write in antiquity, with literacy being essentially limited to the elite and the army. Crucially, literacy relates to power, in terms of 'power over texts and power exercised by means of their use' (Bowman and Woolf 1994: 6). Writing enabled a form of domination to be imposed and sustained even on illiterate individuals (Pearce 2004: 44).
Previous research has focused on the most obvious evidence (e.g. stone inscriptions) and overall levels of literacy in the Roman world. This paper will examine one particular category of writing implement (bronze inkwell) as a case study of how contextualised and theoretically-informed finds analysis can be applied even to relatively rare objects that have never been studied as a group. I have compiled a substantial corpus of ca. 400 bronze inkwells gathered from dispersed publications in order to address the question of how they were used to express identities across the Roman Empire. The distribution and contexts of bronze inkwells are compared to other writing equipment, and a close study of their depictions on wall paintings and tombs gives an insight into symbolic and cultural meanings. The paper aims to understand what inkwells 'did' in Roman society, and how their use related to expressions of identities and power.
Conference Dinner Menu
Please Download The Conference Dinner Menu Here, make your choices, and send the completed form to sjgreep@gmail.com
Meeting Booking Form
Please Download, complete and print the form below and return with a cheque made payable to the Roman Finds Group to :
Dr Stephen Greep
6 The Redwoods,
Willerby, Hull,
HU10 6DQ
If you require additional information or wish to clarify anything about the meeting please email Stephen at:
TRAC2015 Call for Papers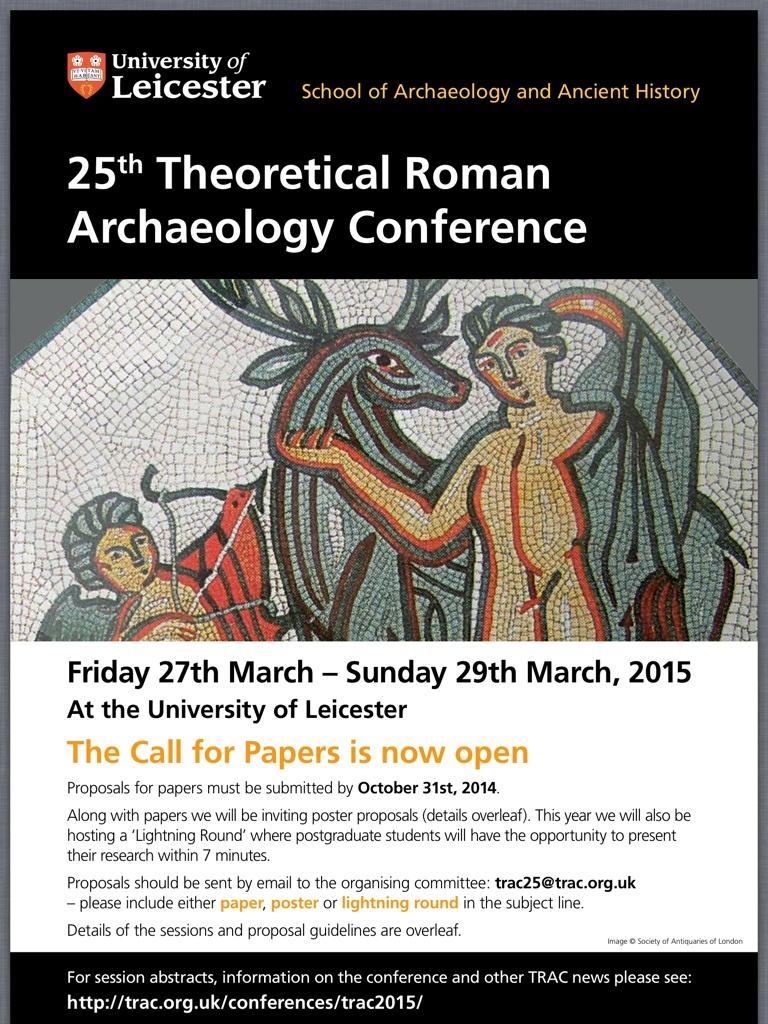 Following the success of last year's Roman Finds Group session at TRAC, we are very pleased to sponsor a session this year on 'Interdisciplinary Approaches to Roman Artefacts'.
Proposals for papers are invited by October 31st. Proposals should be sent to trac25@trac.org.uk. Please include either 'paper', 'poster' or 'lightning round' in the subject line of your submission. All submissions will go through a peer review process.
http://trac.org.uk/2014/10/trac-2015-call-papers/
We look forward to seeing you there.
Ellen Swift, University of Kent
Interdisciplinary Approaches to Roman Artefacts
The Roman Finds Group has an eclectic base comprising field archaeologists, materials scientists, museum curators and educators, experimental archaeologists, academics, and many others. As such we would like to promote an interdisciplinary approach to Roman artefact studies, drawing on the diverse range of knowledge and expertise that exists in material-based studies. The contribution of anthropology is long-standing in the interpretation of archaeological artefacts, however, many other disciplines also have a material focus. This session particularly encourages theoretically-informed contributions that consider the material of Roman artefacts from a wider perspective, e.g. that of art and design, museum studies, materials science, craft experience, or experimental reconstruction.
Roman Finds Group Conference: Finds from Manchester and the North West
8th October 2014
Click here to read a review of this meeting, written by Bryan Sitch (Deputy Head of Collections and Curator of Archaeology at Manchester Museum).
Manchester Museum
Staffordshire Pan - 'Tullie House Museum and Art Gallery Trust, Carlisle'
9.30-10.00 Registration + Tea/Coffee
10.00 Paul Holder (University of Manchester) – Recent finds of Roman Military Diplomas from Britain
10.30 Norman Redhead (Greater Manchester Archaeology Advisory Service) – Finds from Castleshaw Roman Fort
11.00 Vanessa Oakden (Portable Antiquities Scheme) – Finds beneath our Fields: The Knutsford Hoard
11.30 Bryan Sitch (Manchester Museum) – Manchester Museum collections
12.00-1.30pm Lunch (will feature visits to Museum store)
A relatively long lunch break is planned so there will be time to see material in the reserve collection as well as exxploring the museum and finding something to eat.
1.30-2.00 Barbara Birley (Vindolanda Trust) – Keeping up appearances: the wooden hair combs from Vindolanda
2.00-2.30 Gill Dunn – Recent finds from Chester focusing on finds from the amphitheatre
2.30-3.00 Justine Bayley – Enamelled Roman objects
3.00-3.30 Tea
3.30-4.00 Matthew Ponting (University of Liverpool) – Recent analysis of Roman coins (title tbc)
4.-4.30 Rob Philpott – Roman finds from Meols on the North Wirral shore
4.30-5.00 Discussion and closing remarks
There will be an opportunity to see material in the reserve collection. For more information and bookings please contact Bryan Sitch, Deputy Head of Collections, Manchester Museum, Oxford Road, Manchester M13 9PL (bryan.sitch@manchester.ac.uk). All bookings must be made before 3rd October 2014, but as places are limited, early booking is advised.
Cost: £15 for RFG members and students, and £20 for others (includes tea and coffee but not lunch). Cheques should be made payable to the Roman Finds Group.
RFG Meetings
Roman Finds Group meetings are held twice a year in varying locations, and provide a useful opportunity for presentation and discussion.
We are in the process of setting an exciting programme of meetings for the next year or two.
Our Spring 2014 meeting will be part of the Roman Archaeology Conference at the University of Reading, 27-30 March. Hella Eckardt is leading the session "Roman metal small finds in context" on the afternoon of Friday 28th March. Early bird booking rates should hopefully be in place before Christmas, and a provisional programme is here:
http://www.reading.ac.uk/archaeology/Conferences/RAC2014/arch-RAC2014.aspx
We shall visit Exeter's revamped RAM Museum during the Summer of 2014. We also hope to host an Autumn meeting in Manchester, to coincide with the British Museum's touring exhibitionEmpire, Power and People.
RAC 11/TRAC 24
27th–30th March, 2014
This spring we are joining the Study Group for Roman Pottery in sponsoring a session at the Roman Archaeology Conference being held at the University of Reading. Our session is titled Roman Metal Small Finds in Context. The speakers are:
Ellen Swift – Design, function and everyday social practices: a case study on Roman spoons
Emma Durham – Metropolitan styling. The figurines from London and Colchester
Michael Marshall, Natasha Powers , Sadie Watson – 'Treasure', 'trash' and taphonomy: Approaches to the excavation and interpretation of Roman finds from the Walbrook valley
Martin Pitts – First generation urban communities: comparing ceramic and brooch assemblages in Roman Britain
Tatiana Ivleva – What's in the name? 'Britishness' of British-made brooches abroad
Hella Eckardt – Immigrant soldiers at Hollow Banks Quarry, Scorton? New work on crossbow brooches, burial rites and isotopes
There are many other sessions that will be of interest to members of the group including:
Insularity and Identity in the Roman Mediterranean
Small Finds and Ancient Social Practices
Return to the Sauce: new investigations concerning amphorae and their contexts
'Deposits Full of Character'
Clay and Cult: Roman terracottas and their production and use in domestic, religious and funerary contexts
Continuity and Change – the impact of foodways on provincial pottery traditions
The basic conference fee is £98 including lunches on
Friday and Saturday, and there are discounts for students (‐£20) and Society members (‐£5). Delegates can also book in for the Conference dinner on the Friday night and a guided tour around Silchester on the Sunday afternoon. Conference details, including abstracts of all papers, can be found at: http://www.reading.ac.uk/archaeology/Conferences/ RAC2014
Latest News
RFG members have recently received a letter setting out options for additional future activities together with a copy of our draft constitution; comments on both are welcome....
The RFG is in the process of embarking on an exciting new project designed to act as an educational aid....